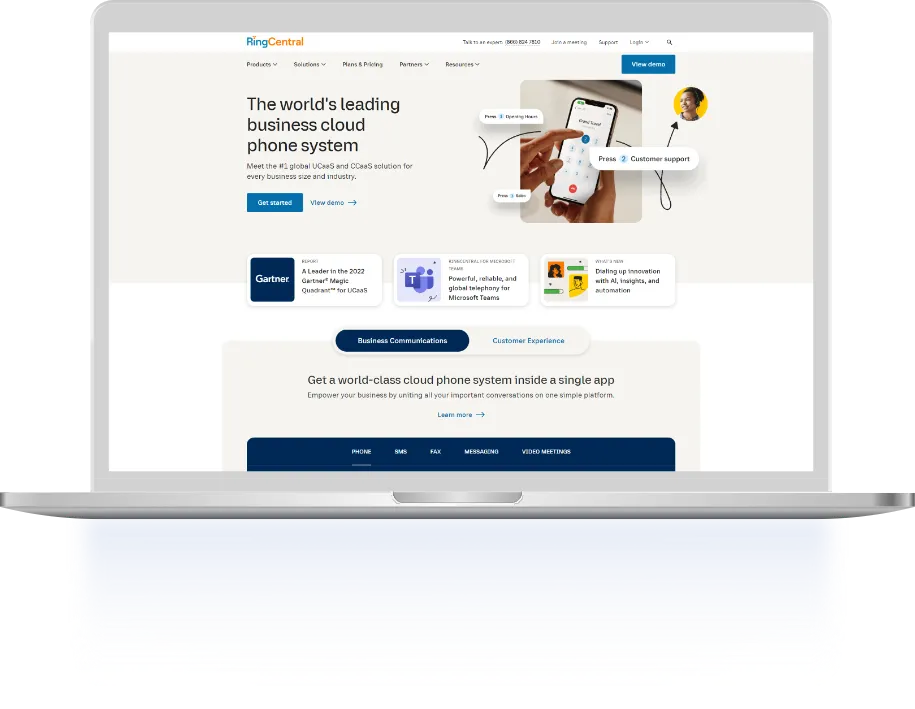 VinnCorp Built IT Capability and Helped RingCentral to Scale up by 75% by Going Good to Great
RingCentral – having acquired 400k+ customers worldwide – is a renowned cloud communication company that connects people worldwide.
For years, they had a dispersed tech team around the globe to carry out their tasks, and the time difference was a primary hindrance in managing them.
Additionally, these resources were expensive, so RingCentral preferred replacing them to balance costs. They were considering onboarding 14 new resources.
In seeking a sound IT staff augmentation company, they found VinnCorp the most reliable and one of the best IT staff augmentation companies since we promised to cut their cost to 75% while providing high-quality resources.
After a detailed discussion over the meeting in January 2022, VinnCorp provided 9 Silicon Valley standard resources, including front-end developers, SEO experts, content writers, and quality assurance experts for RingCentral.
After 3 months of our assistance, they were highly satisfied and reflected their interest in hiring 5 more tech resources through our staff augmentation company.
To their request, we provided a data scientist, data analyst, project manager, and financial analyst. Our remote team backed them to gain brand recognition, manage their database, and generate more leads.
VinnCorp's SEO Experts Optimized RingCentral's Business Building High-Quality Links
RingCentral asked VinnCorp to provide top-notch candidates for outsourcing link-building tasks for their website. Once VinnCorp and RingCentral were aligned on the requisites, VinnCorp readily started setting up interviews with SEO experts in less than 24 hours.
The interview with the shortlisted candidate exceeded the expectations, and RingCentral, without taking time, outsourced SEO experts through VinnCorp.
Firstly, our SEO specialist conversed with the RingCentral team to understand their business goals and how they have been working.
Our SEO link-building outsource specialist realized that high-quality backlinks are what RingCentral's site needs. So, he devised a strategy and assisted in generating high authority backlinks. The primary objective was to optimize their business site and gain authority on search engines.
RingCentral realized they were on the right track when they noticed the newly built links helped them accelerate the traffic and leads.
VinnCorp Delivered What RingCentral was Looking for - Quality Content
RingCentral approached several content writing outsourcing companies. However, the content wasn't always what the company's marketing team had anticipated. It was either complicated, unimpactful, or didn't align with their specific guidelines.
In that regard, they were searching for a staff augmentation company to provide them with reliable and commendable writers. The team needed talented writers to draft engaging and interactive content. They finally decided to trust VinnCorp and contact the team with their requirements.
VinnCorp provided them with experienced writers to meet their expectations. Our content writing outsourced resources used on-page SEO techniques and delivered high-quality content within the specified deadline and guidelines.
RingCentral's team was thrilled with the quality of the content our writers generated. Readers engaged with the blogs of our writers and stayed on the web page for a long.
VinnCorp's Developers Built Landing Pages on RingCentral to Multiply Traffic
RingCentral contacted VinnCorp as a reliable staff augmentation company with their requirement to build customized landing pages. A meeting was set up to discuss their requirements and assign them skilled front-end website developers.
The development was based on the plan made with the owners, and they closely worked with their team and frequently took collaborative meetings to ensure the best possible results.
With the exclusive and appealing landing pages designed, RingCentral was also satisfied with our front-end developers.
Although RingCentral already had a QA team, they required more experts to remove the bugs and make their website and applications more responsive.
They asked VinnCorp to provide a QA expert for a seamless user journey since they had already experienced how our staff augmentation company provides suitable and qualified resources. We shortlisted the CVs of the experienced QA experts according to their provided requirements and scheduled their interviews in a short time.
Sandeep Kaur from RingCentral said, "Opting for VinnCorp as my staff augmentation platform has been a relief. They are so responsive and pay heed to the requirements in length. The cost-effective pre-vetted resources provided have been at par, which has helped us maximize our performance. We look forward to working with VinnCorp!"
Bringing it All Together
In hiring Silicon Valley standard resources from VinnCorp, RingCentral got exclusive and satisfactory results and reduced 75% of their cost. RingCentral was not only provided with talented resources but given a large chunk of time to understand their business over the years. VinnCorp made an effort not to be just another staff augmentation company but understood specific skills needed based on projects and worked diligently to identify resources that possess those needed skills.