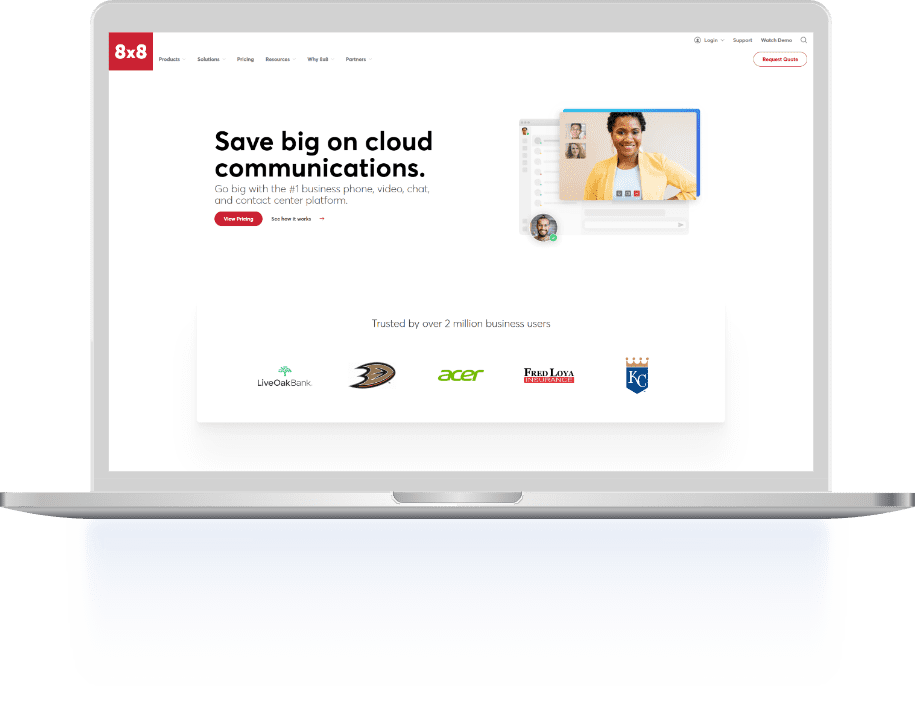 VinnCorp helped 8x8 Quadruple Productivity while Cutting Marketing and Tech Experts' Costs by 25%
8×8 – the global leader in the 2022 Gartner Magic Quadrant for Unified Communications as a Service (UCaaS), connects people worldwide with video conferencing, chats, and phone calling solutions.
Helping enterprises and brands collaborate smoothly and quickly, 8×8 is emerging fast in the communication industry. They have over 2 million business users satisfied with their service.
8×8 approached VinnCorp, considering it a trustworthy technical staff augmentation company, in August 2022 to hire a tech team. They requested quality resources on quick availability to get started ASAP.
VinnCorp, one of the fastest-growing IT team augmentation platforms with 70+ satisfied customers, was on board with 8×8 and eager to assist them in their business growth.
VinnCorp Provided a Reliable and Efficient Team of 4 to 8x8 within 24 Hours
In the meeting set up with 8×8 to understand their requirements, VinnCorp acknowledged that the company wants to expand remote staff and requires 4 IT experts.
They asked VinnCorp to provide an Engineering Manager, Conversion Rate Optimizer (CRO) Expert, Front-End Developer, and Full-Stack Developer. We provided these 4 experts for 8×8 in less than 24 hours, working in the Pacific Timezone.
Once our engineering Manager took the handover from 8×8, she first noted the need for more documentation. So, she started garnering reports and files from the previous teams to organize the information for easy access in the future.
She conducted several meetings and discussions to keep the process streamlined. All she aimed to do was bring improvements – which she succeeded in.
Under the supervision of our Engineering Manager, our Front End Developer, Back End Developer, and CRO Expert formulated new techniques to optimize the 8×8's website and keep its user experience flawless.
Together with our CRO experts, and the Front-End Developers worked on multiple rounds and demands of A/B testing on 8×8's website.
For instance, in the case of the "request a code" button on a landing page, our CRO expert suggested two scenarios to experiment with through A/B testing. While our front-end developers deployed the scenario to bring the vision into a working concept and test it.
Besides this, our Front-End and Full-Stack Developers built 12 landing pages on 8×8's request to address customers on events and showcasing awards. Keeping the template constant (the primary requirement of 8×8), our developers performed content changes on resources, case studies, and blog pages.
Fast forward to 3 months, 8×8 analyzed the performance and efficiency of VinnCorp's deployed team. The streamlined management and documentation pleased them, and they were willing to arrange a meeting and avail of our IT augmentation services again.
VinnCorp's Technical Staff Augmentation Team Accelerated 8x8's Innovation Journey.
Another meeting was held with the team 8×8 in October 2022. In this meeting, they highlighted their satisfaction level with VinnCorp and the technical staff augmentation team we provided. Additionally, they discussed their need for 3 more remote talents in the company.
To hold their visitors for a long time and give them a smooth experience, 8×8 mentioned their need for a UI/UX designer.
They were interested in hiring a professional Quality Assurance Engineer to identify their website's bugs and remove them simultaneously. Along with these 2 experts, they discussed their need to add another Front End Developer to the already provided tech team.
We understood their expectations and sourced the Silicon Valley standard resource & staff augmentation team. Our experts had years of experience and were trained to carry out tasks.
Deployed on 8×8's website, our Quality Assurance Engineer encountered bugs within a week of joining – previously undiscovered and affecting user journey. The developers' IT augmentation team removed them to smooth the interface.
8×8 observed a note-worthy change in their website. VinnCorp's responsiveness and timely delivery made them delighted to opt for VinnCorp as their technical staff augmentation company.
In hiring a tech team from our technical staff augmentation company, 8×8 reduced its techno-marketing spend by 25%, while quadrupling their productivity and accelerating their innovation journey.
The new 8×8 site is a great piece of visual storytelling. From their primary pages to individual projects, their content evokes a desirable feeling of community. By hiring a tech team from our technical staff augmentation company, 8×8 reduced its techno marketing spend by 25%, while quadrupling their productivity and accelerating their innovation journey.