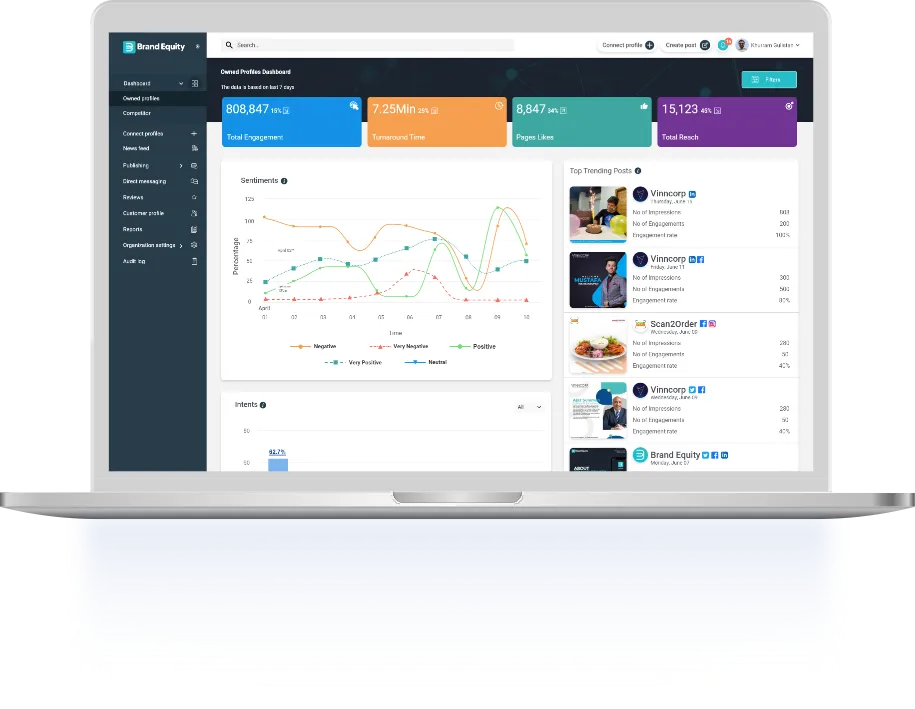 VinnCorp Built Artificial Intelligence Driven Social Media Management Tool
Brand Equity is a leading social media management tool. It helps brands, their managers, and marketing teams to keep an eye on their users' behavior, analyze their feedback, and respond to them.
Before May 2020, it was just a vision that needed to find a path to become a reality. However, finding a platform with expertise and insights to develop and make the tool perform the expected way was a challenge.
Brand Equity Wanted to Build the Best Social Media Management Tool
In that regard, Brand Equity contacted VinnCorp – considering a suitable fit to make top-notch web and mobile apps.
Brand Equity, an unknown name and thought back then, discussed their market research with us. The team did thorough research with detailed information on customers' pain points.
They elaborated on how brands need help to answer their loyal customers on social media platforms. At the same time, customer support regrets missing any critical comment from a user – which may affect the brand's reputation.
Pain points weren't limited to these two, but a detailed document based on facts carried out in the market involving multiple brands.
Phase 01: Brand Equity's Trial in 5 Different Companies
Keeping Brand Equity's expectations in mind, our team discussed the onboarding process and distributed tasks.
After working for 6 months in developing this media add-on and competitive analysis tool, Phase 01 of Brand Equity was finally ready for trial. Our AI experts built custom advanced language models to implement sentiment analysis not only for standard languages, but also for informal Roman languages.
To test the reliability and performance analysis, we approached a very diverse set of customers: a mall, a utility company, an IP telephonic company, a bank, and a food business.
All the brands and businesses were pleased with the tool's performance, except for a few features they insisted on having.
Phase 02: Provided Brand Equity to 20 Local and International Companies for Performance Analysis
Phase 2 began with incorporating the feedback provided by the local companies. Team VinnCorp once again initiated working on this tool to enhance its usability and performance. The AI team implemented advanced features like intent analysis for social media data. It allowed the system users to understand the aggregated underlying rationale of different organic conversations the public has regarding their brands.
This time we also involved international brands in testing the tool's reliability. 20 local and international companies were a part of trying Brand Equity's phase 02.
Phase 03: VinnCorp Developed Mobile App and Web Application for Brand Equity
In phase 3, VinnCorp added publishing and scheduling capabilities to the tool as well as made the tool available on mobile platforms natively. In this stage of development, the system is transformed into a cutting-edge, state of the art platform for social media publishing, scheduling, sentiment and intent analysis along with analytics for various trends. Support for LinkedIn and Instagram platforms is also added to the tool, which originally had Facebook and Twitter.
Bringing it All Together
The new Brand Equity web application is now being launched for a larger audience. All in all, it makes social media data insightful, actionable and manageable for the marketing and customer success teams. The brands now no longer need to be confined to one platform, and can harness the power of multiple social media platforms simultaneously, allowing brands and businesses to navigate and keep track of their business image in the market, respond immediately to their customers, and engage with them in order to maintain their brand image.