Did you know 55% of companies perform user experience tests once in a while? Turns out, they are well aware that customer satisfaction is the core of the success of their brand or business.
However, making the customer satisfied with your web page isn't as easy as you might consider it – especially when it comes down to managing ping tests or server-level data.
Based on application development frameworks, modern web pages have a complex structure. So, it becomes challenging to monitor the technical and perceived performance of your web page.
That's where an application performance monitoring tool becomes a lifesaver. Today, we are about to discuss the importance of a performance monitoring tool.
Additionally, we have listed the top 5 tools for monitoring website performance. So you can pick one of them to keep your users highly satisfied and lift your brand reputation in the market.
Let's jump straight into the reasons you need a web app performance monitoring tool.
6 Reasons Your Web App Needs A Performance Monitoring Tool
Web Page Uptime
Users land on your web page to access it and perform the specified action. App performance monitoring tools make sure that the web app is performing well and is online to avoid negative impressions and retain users' trust.
Interface Performance Monitoring
Sometimes there are broken links on your web page. On others, its speed is being affected for one reason or another. Detection of these errors and monitoring performance turns out easy with the APM tools.
CPU Utilization
Application performance monitoring tool helps you track the CPU utilization and memory demands and indicates gaps to help optimize it. This would otherwise take a long time and effort.
Detect and Resolve Errors
Performance monitoring tools not only help you measure speed and responsiveness but also enable you to identify errors and exceptions that occur within your web app. By monitoring application logs, server metrics, and error rates, you can quickly detect and diagnose issues, reducing downtime and minimizing the impact on your users.
Downtime Alerts
An important aspect of web application monitoring is precautions against downtime. So, while you may have an eye on every other feature and keep your web page up to date, a little slip on the downtime can be a red flag for your business.
Thanks to the web app performance monitoring tool, this has become easy. The APM tool keeps running the performance analysis, detects it, and alerts before the damage is done. So, you can take a precautionary measure and keep the web app from it.
Centralized Dashboard
One of the biggest advantages of having tools for monitoring web applications at your disposal is the centralized dashboard. It gathers all the application log data and errors and surfaces it on the centralized dashboard.
From there, your developers can simply start retrieving the errors instead of investing a large fraction of time in encountering and gathering them first.
5 Tool for Monitoring Website Performance
Dotcom-Monitor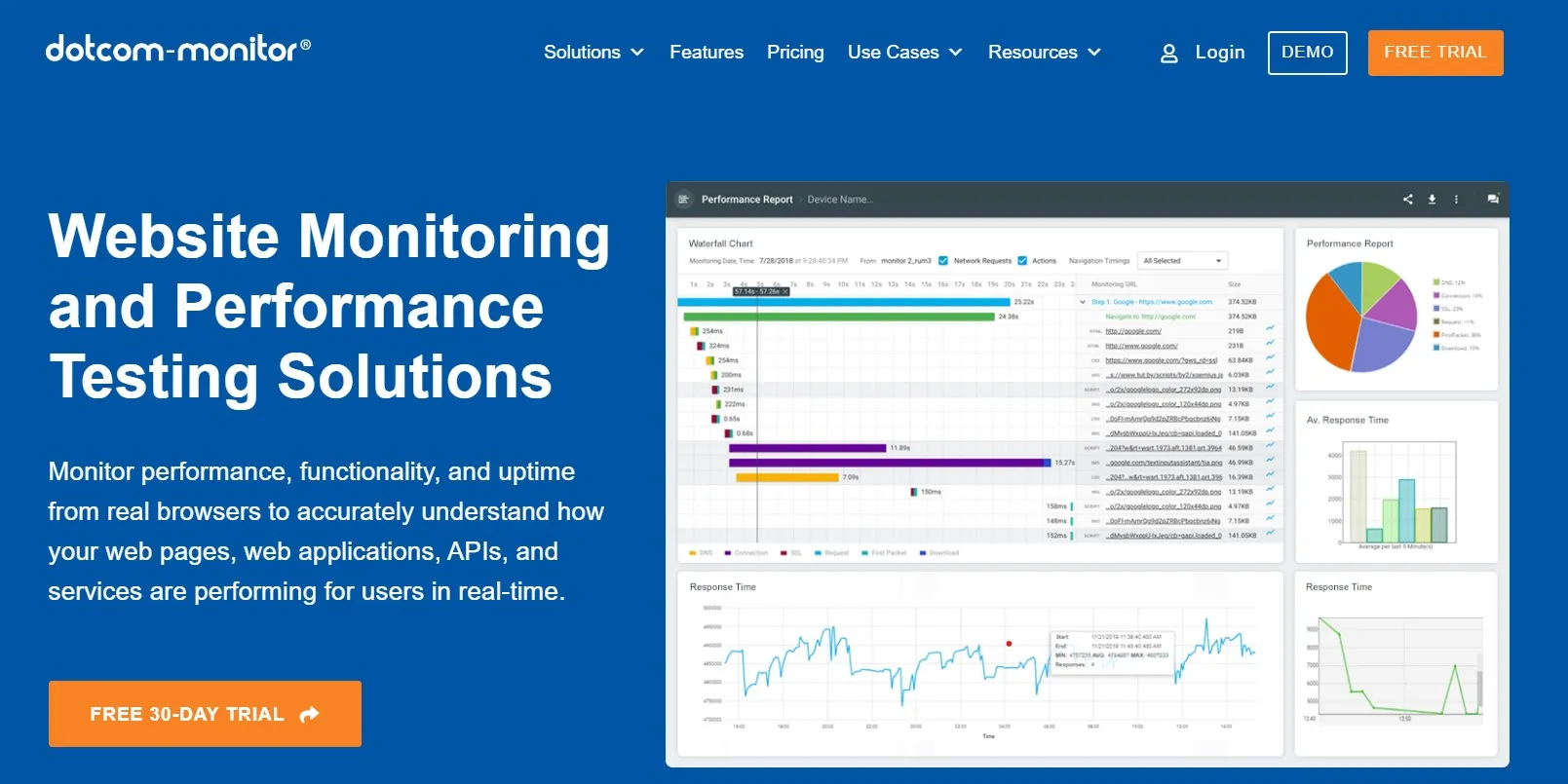 Coined in 1998, Dotcom-Monitor offers a list of exclusive features to keep your web app optimized and give a smooth journey to your users.
To determine this journey, it tracks the action taken on the web page using EveryStep Web Recorder. It also performs load stress analysis with its LoadView platform.
Additionally, it includes features like transaction monitoring and availability testing and sends you alerts on errors to ensure good uptime.
This performance monitoring tool has an advanced feature and provides details on errors using waterfall charts and video playbacks. So you can easily track the browsing patterns of the user's landing.
One significant highlight of Dotcom-Monitor is its historical trend analysis. With this the help of this feature, you can predict the future performance of the webpage as well.
Highlights
Provides real-time information
Monitoring network worldwide
Tested over 40 mobile and desktop devices
24/7 exclusive support
Solarwinds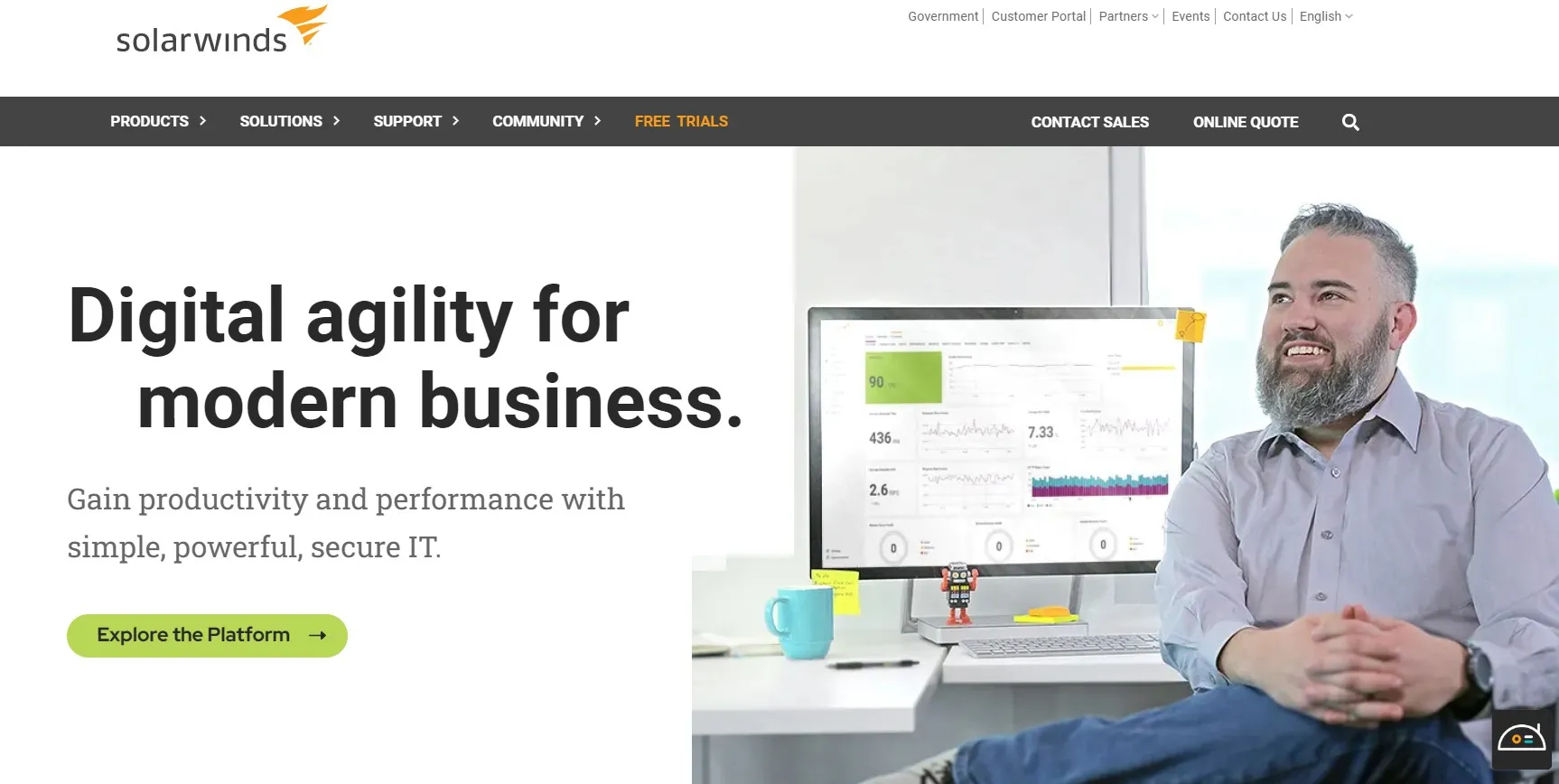 Solarwinds is one of the best web apps and application performance monitoring tools. This tool gives you insights and records on the transactions on your web app.
Making it simple and straightforward for you, it highlights details on errors and recommendations on a dashboard. So you can decide your next action plan to improve the web page's performance.
Since it monitors multiple applications from multiple locations through the AppOptics platform, you can use it anywhere. In fact, you can generate custom reports on the transaction's health, the web page loading speed, website uptime, and everything in between.
This app performance monitoring tool detects and fixes performance issues internally and externally. So, your user's journey is smooth and frictionless.
Highlights
Identify and alert on errors
Live reports on the dashboard
Supports diverse frameworks and languages
Offers a free trial
Site24x7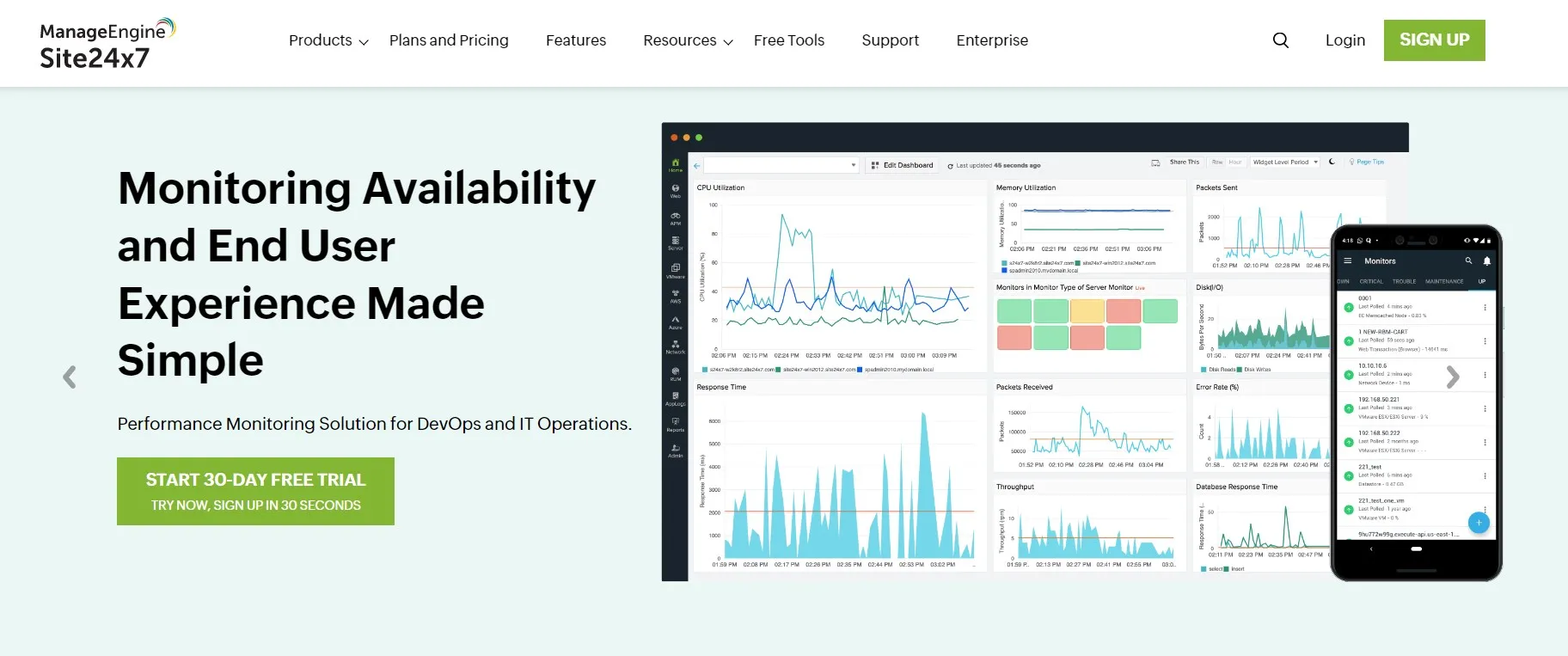 Although paid, Site24x7 ranks amongst the most reasonable web app performance monitoring tools. It keeps a check and balance on your web page's transactions, performance, timeouts, and a lot more.
Identifying errors and monitoring and managing Cloud-based applications, it fetches out the root cause of the server issues.
You get support on multiple protocols, including HTTPS, HTTP, TCP etc, with Site24x7. It also offers integration with Zapier and PagerDuty to provide you with prompt notifications and error alerts.
Not only that, but also you can avail its free version and monitor up to 5 websites. It sends 10 SMS and calls per month without having to sign up for its premium version with a credit card.
In fact, it offers a free trial for 30 days so you can better understand if it's a good option to monitor your web app or site.
Highlights
Reasonable monthly subscription
Performance tracking from over 100+ countries
Agrees to provide full-stack monitoring
Free trial for 30 days
UptimeRobot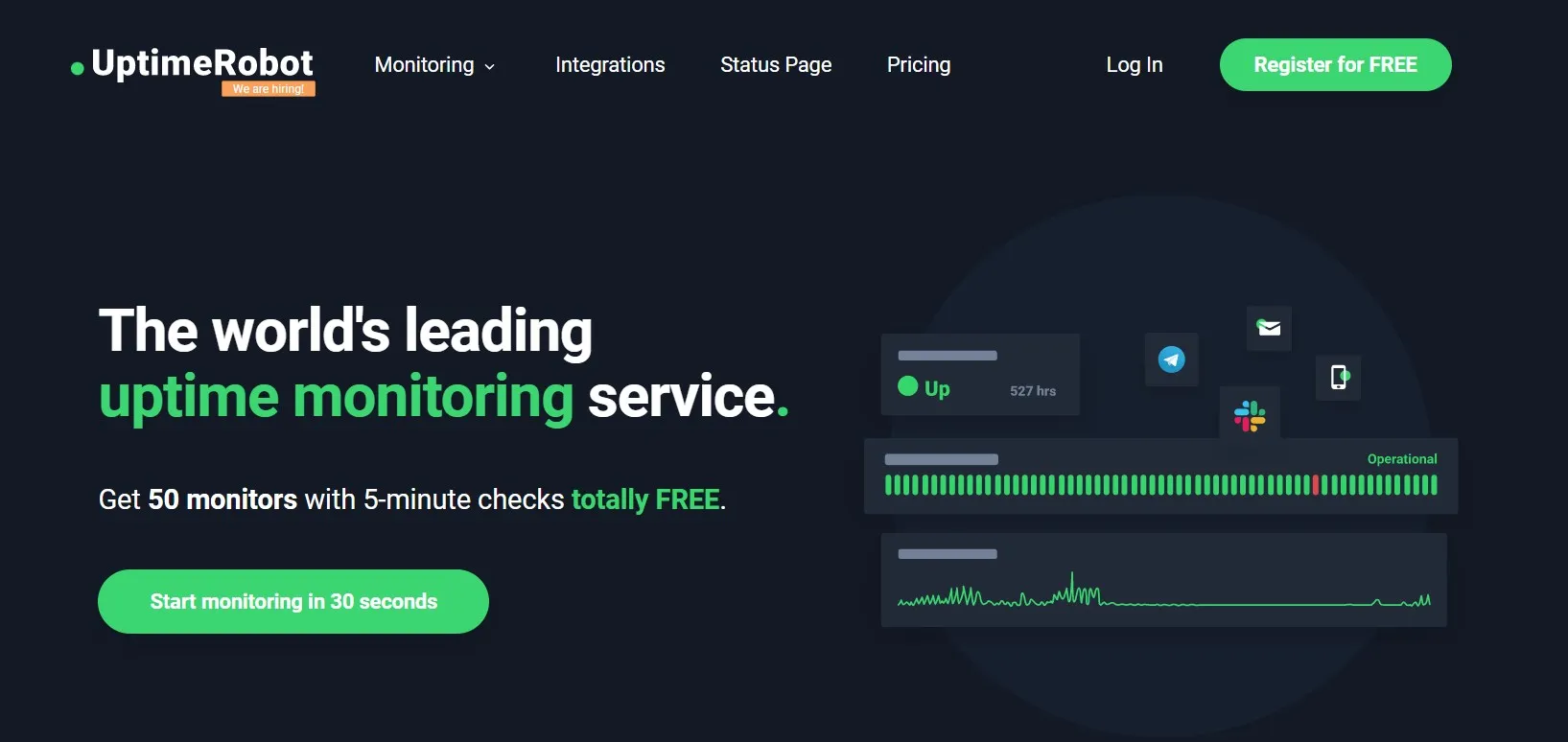 UptimeRobot is another great web app performance monitoring tool since it checks the web page's performance, including uptime, downtime, and transaction reports.
After identifying errors, it gathers all the information and mentions them on the dashboard. So you can quickly get a run-through of the errors you need to take action on.
This open-source tool agrees to monitor 50 different sites on a free account. While it creates the report from 12 countries and stores it for 3 months.
One of its downsides is that it doesn't provide insight into page speed. However, it's still a good bargain for the features it has to offer.
Highlights
Straightforward setup process
Free monitoring of 50 websites
Synthetic as well as a real-time user monitoring
SMS and email notifications for errors
GTmetrix

GTmetrix is a renowned web app performance monitoring tool that gives you a comprehensive report on the bugs found that keep your users from a smooth experience.
In the free version, it provides you details on the page speed, fully loaded time, and total page size up front, and Yslow. This report is generated on the basis of 25 global servers so you can better assess and improve your web page's performance.
It covers all the details on why the speed of your web app is affected and suggests action to fix it. Using a waterfall chart like the Dotcom-Monitor, it indicates how long your user stays on the web app and monitors transactions.
Additionally, you can view this user journey through a video explanation. That gives you a better understanding of your page load and customer interaction with the interface.
Highlights
Blocks ad when you test
Get insights from 25+ servers
Free trial and easy setup
Precise reports
Conclusion
Today, we discussed why your web page needs a performance monitoring tool to highlight one's significance for your brand or business. Using the APM tools, you can keep your web page available and easily accessible to your customers.
It helps encounter errors, gives a detailed report on them on a centralized dashboard, and alerts before the downtime. All of it saves the time and effort that you would invest in doing it manually.
Standing right on these benefits, we have also shortlisted 5 top web page and app tools, including Dotcom-Monitor, Solarwinds, Site24x7, UptimeRobot, and GTMetrix. Use one of these tools to keep up your web app's performance.
Also Read: When do companies need Software Testing?