According to research, firms usually take around 36 days to complete the hiring process for an individual. This means hiring a candidate will consume a chunk of your valuable time and energy. 
One way or another, this makes it imperative that you select the right candidate to achieve the desired result. To aid you in staff augmentation, we are here to discuss the ten 10-step outsourcing model to expand your team. 
This article covers every detail you should look for in a tech resource. It also highlights the factors that will help you maintain effective communication between you and the new hire. 
So, without further ado, let's get started. 
Staff Augmentation: Step-by-Step Guide on Outsourcing Model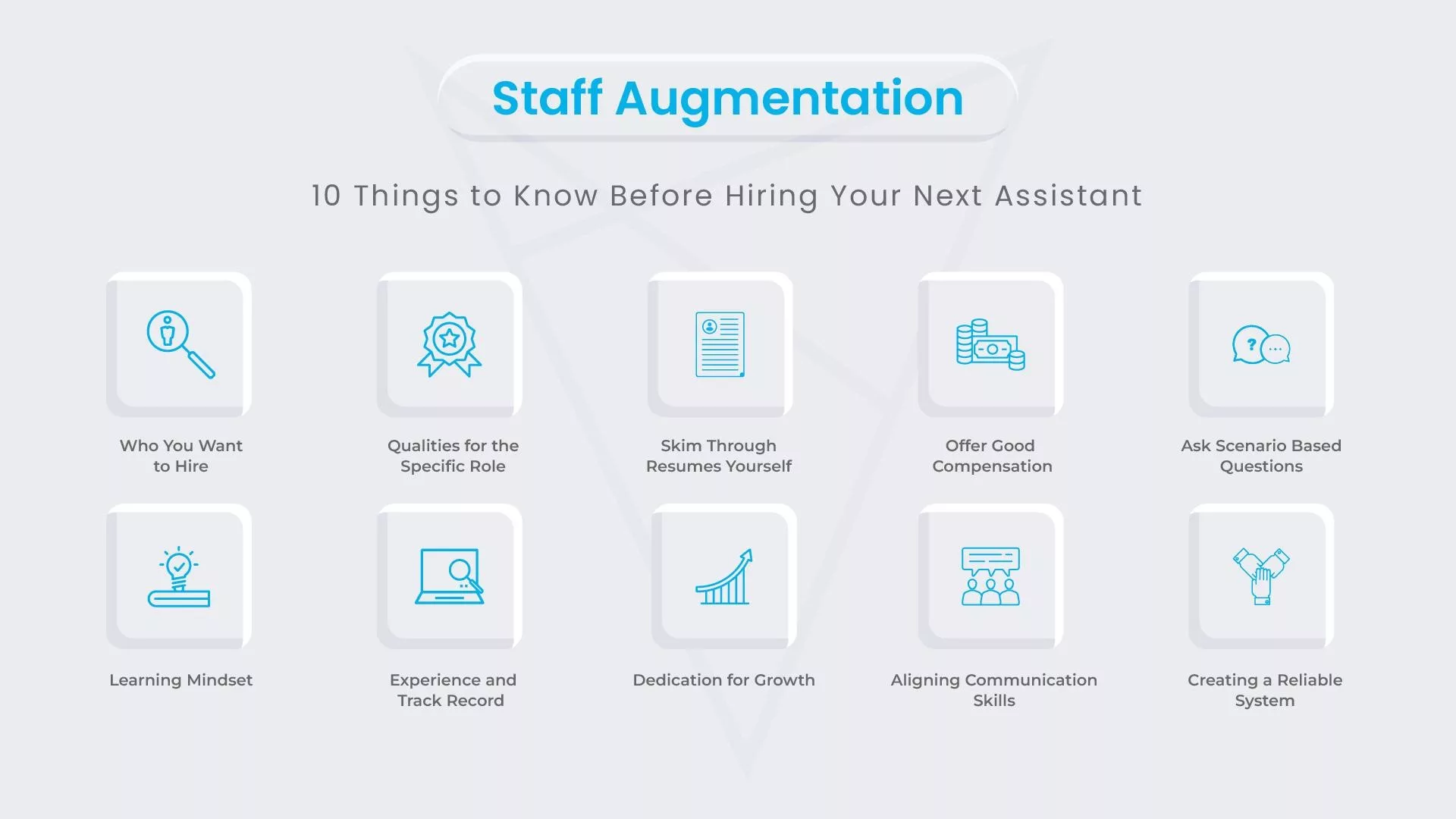 Who You Want to Hire 
A new team is always needed to back up when your company starts scaling. However, hiring a large team all at once might not be the best move – especially if you are a startup. 
A jack of all trades is the master of none. So, we don't recommend hiring an assistant for you who claims to be proficient in multiple tasks. 
Instead, you should stay certain of the role you require the most in the staff augmentation model. Keep your company's needs in mind and the current situation, and hire the most required person. 
Doing so will save you from extra expenditure and the risk of having a pitfall if the company gets into a critical situation.
Ask yourself, do you need a virtual assistant or an IT professional? Some critical thinking can ease your hiring process and will help you go for the right candidate. 
Qualities for the Specific Role 
Sit for a while and consider the characteristics that you believe are must-haves in your next assistant. It could be anything from technical expertise to strong communication skills. 
Write all of them on a piece of paper or notepad. You can also make a column for the qualities that are negotiable. 
Give your required characteristics a good shape and jot them in your job proposal description. Your expectations in the proposal will insist candidates self-analyze for these qualities before they apply. 
Only the candidates who will find themselves aligning with the roles and responsibilities will apply – others will refrain. This step will keep you from the hassle that you can land in the near future. 
Skim Through Resumes Yourself 
Usually, an HR professional, assistant, or business manager looks into candidates' resumes. While this is the right approach, we suggest you give it a go yourself. 
The resume has everything from hobbies to interests and experience. When you look at them, you will probably find the right candidate. 
You will also have the upper hand this way when interviewing your candidate. However, if that's not your role and you strictly refrain from it, sit with your screener. 
Discuss your thoughts and staff augmentation expectations about the candidate with them. This model will most likely succeed if your screener is working with you for a long time since he knows your hiring priorities and the qualities you need in a candidate. 
Offer Good Compensation 
Staff augmentation benefits include access to a larger talent pool. This allows you to cut costs and balance the expenditure of the company. 
Remotely, you can hire candidates from all around the world. And the best part is that candidates are readily available to work at a minimal cost in Asian countries. 
You can compensate these bucks to your next assistant – through salary. This will help you retain them and insist on them for good performance. 
If you pay them well enough according to their region, they'll go above and beyond your expectation to scale your business. 
The candidate's payment will depend on the time of the project you are hiring him for. So, you need to decide if you want to hire on a project basis, on a contract, or full-time. 
Ask Scenario-Based Questions
Once you have passed the initial steps of staff augmentation, like posting jobs and reviewing resumes, the next is to set up an interview with the shortlisted candidates. 
As an expert, you might not have to prepare questions for an interview. However, consider asking scenario-based questions to the candidate. 
Explain a tangled scenario to the candidate during the interview. Let him reach a conclusion and explain how they will solve the problem. 
Having a tech resource thinking out of the box is essential since dealing with complex situations is always a hassle. So, if your new assistant isn't a problem solver, you might have to jump in to take the situation in the right direction. 
Learning Mindset 
Learning has no end. However, a positive attitude towards learning is rarely found. So, it's imperative to have a candidate with a learning mindset in your team. 
Technology is rapidly evolving. A candidate can take your business to the next level if they're always up to learning and discovering new techniques. 
You can evaluate this quality when interviewing the candidate by asking about it. Additionally, you can ask them to state their relationship with other employees in the previous company. 
Your firm needs a positive attitude (especially the newly established one). Get a better idea by asking what the most disliked parts of the previous job were. Their answer will tell you what mindset they have and if they could lead you to success.
Experience and Track Record 
One of the staff augmentation best practices is to keep an eye on the applicant's background. Knowing where they have been working and their tenure is important. 
This will give you an insight into the candidate's dedication and loyalty to an organization. Also, it will depict if they give up easily or stick to the same foundation. 
Having a candidate with a track record of a couple of years in a company is beneficial – especially if your work model is for the long term. 
Not only should you consider a candidate's resume for this, but ask him. A face-to-face question regarding the expertise in the resume will portray the candidate's efficiency on the subject and involvement in the projects. 
Dedication for Growth 
In a few significant instances of staff augmentation, energy is also included. When hiring a new assistant, you should consider his work energy. 
However, this energy and dedication to growth could be divided if your new assistant is working with another client or if it's a part-time job. So, you need to explain the workload and ask if they can manage the project with full attention. 
Clarify if the project will be short-term or long-term so things are easy to sort. 
Aligning Communication Skills 
Communication should be clear regardless of the role you have offered to your candidate. So, one important aspect of making your staff augmentation model successful is knowing your candidate's communication skills. 
Do they speak a lot? Or do they listen to you carefully? You should give it a thought to understand them better. 
Candidates with positivity, attentiveness and a respectful attitude are strong in communication. So, analyze if the candidate – probably becoming your next assistant – is good at communication and capable of handling the matters themselves. 
Creating a Reliable System 
Once you've analyzed the primary qualities of your candidate, you're close to hiring them. So, the next step would be to set up reliable communication and work model. 
For this, you'll need to be certain if a regular meeting or a weekly team discussion will be good enough. You should also take note of the communication channel. 
This is more important if you have hired a remote candidate. Candidates working remotely from another country work usually have a time difference, so this could be a hindrance. 
There must be one platform where all the communication needs to be carried out, like Slack or Skype. Along with record maintenance, this will help keep things running smoothly. While the candidate now your new assistant will know where to drop files or important information. 
Conclusion 
In the staff augmentation model, stay certain of who you want to hire, define qualities you want to have in a candidate, and explain them in the job description. 
When hiring, particularly, you should ask and test the candidate on real-life scenarios. You should also test the reliability of data in the resume by asking about the experience and track record of the candidate. 
Once hired, you must have a reliable system where you can coordinate and communicate. This will help you have the best assistant and ease the hiring and onboarding process.