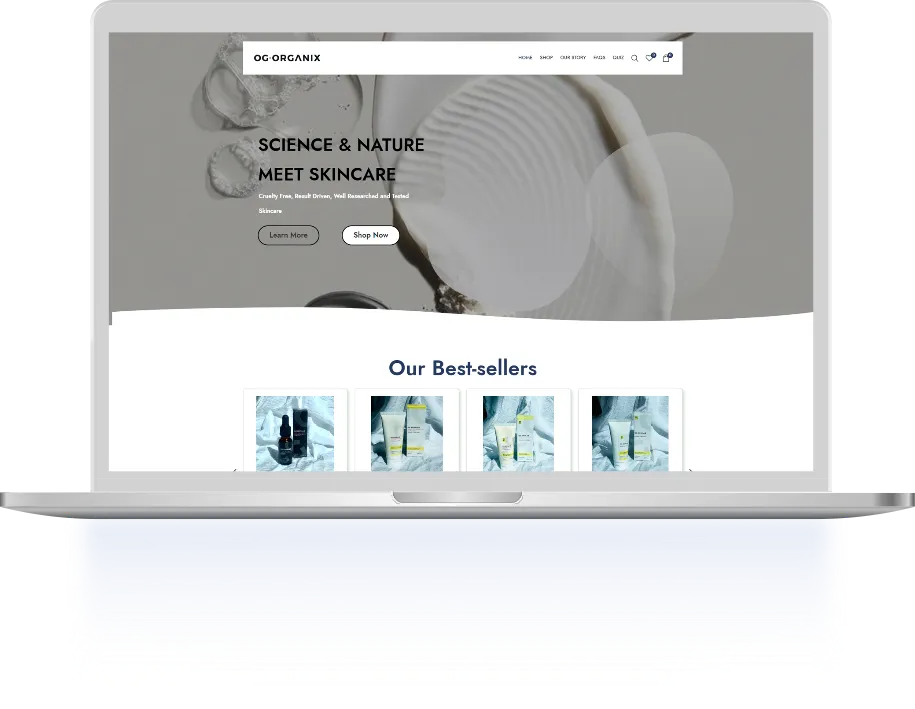 VinnCorp Helped in Establishing the Online Presence of Cosmetics Brand - OG Organix's Web Design Case Study
OG Organix is a skincare cosmetics brand with seven local outlets. Produced and packaged with delicacy, they offer skincare products for women to kids.
Despite having brick-and-mortar stores, they wanted to have a strong digital presence to multiply their business revenue. The uncharted wave of Covid-19, with the rise of online shopping, was the right opportunity to leverage. However, they couldn't achieve the aimed target.
To verify the nature of the problem, enhance their customer base, and excel in selling online, they contacted VinnCorp.
OG Organix Outsourced Web Design Development to VinnCorp For Better Sales Generation
We had a meeting with OG Organix's team. It was a detailed meeting where they expressed their frustration due to low sales and the desire to revamp website design and development.
Their biggest concern was the bounce rate. The customers weren't filling in the cart after landing on the website and left without making a purchase. Managing the inventory also appeared to be a problem for them.
Adding, editing, or deleting products was also a challenging and time-consuming process for them. They blamed their outdated interface for seized sales and requested VinnCorp to verify it.
VinnCorp Maximized OG Organix's Sales, By 45% through Designing a Smooth Interface
After hearing and jotting the problems from team OG Organix, VinnCorp's website design expert commenced the website analysis. He took the time to understand their expectations and decided to produce an improvised version of their website with a design thinking process.
Using the website as a user, he garnered the bottlenecks of its interface. Next, he studied the competitor's website to observe its performance and interface.
During the research, he encountered that OG Organix's user journey was complex. While the performance of the site was slow due to an outdated interface
Our website development expert tailor-fit the new interface by keeping in mind the needs and expectations of OG Organix's customers. He simplified the user journey by studying heat maps and made the look and feel of the website compelling, immersive, and responsive.
At last, our website development expert, along with the website design professional, decided to build the website on WordPress to upgrade its performance. This provided OG Organix with a smooth inventory management system and seamless product editing and deleting.
Customer navigation was eased by adding subcategories to the shopping section and a wish list to the menu bar. So, their customers reach the desired skincare product with just a few clicks.
Bringing It All Together
"From design analysis to deployment, VinnCorp's experts brought OG Organix's website in good shape and aligned with real-world customer needs. Not only was the team OG Organix satisfied with the designs and implementation, but we also observed revenue growth after revamping" said the Director. " said the Director.