A survey indicates 71% of small businesses have a website. This percentage reflects how significant it is to have a website for brand recognition and customer trust for your business.
However, developing a website on-site comes with a list of challenges. In some cases, you have to take away the ongoing work from the developer and dedicate him to website development, harnessing the work speed inside your office.
Nevertheless, outsourcing a website developer is a solid idea with tons of benefits. In this article, we'll highlight these advantages so you can enjoy peace of mind while outsourcing your website development.
So, let's get started.
Top 7 Benefits of Outsourcing Website Developer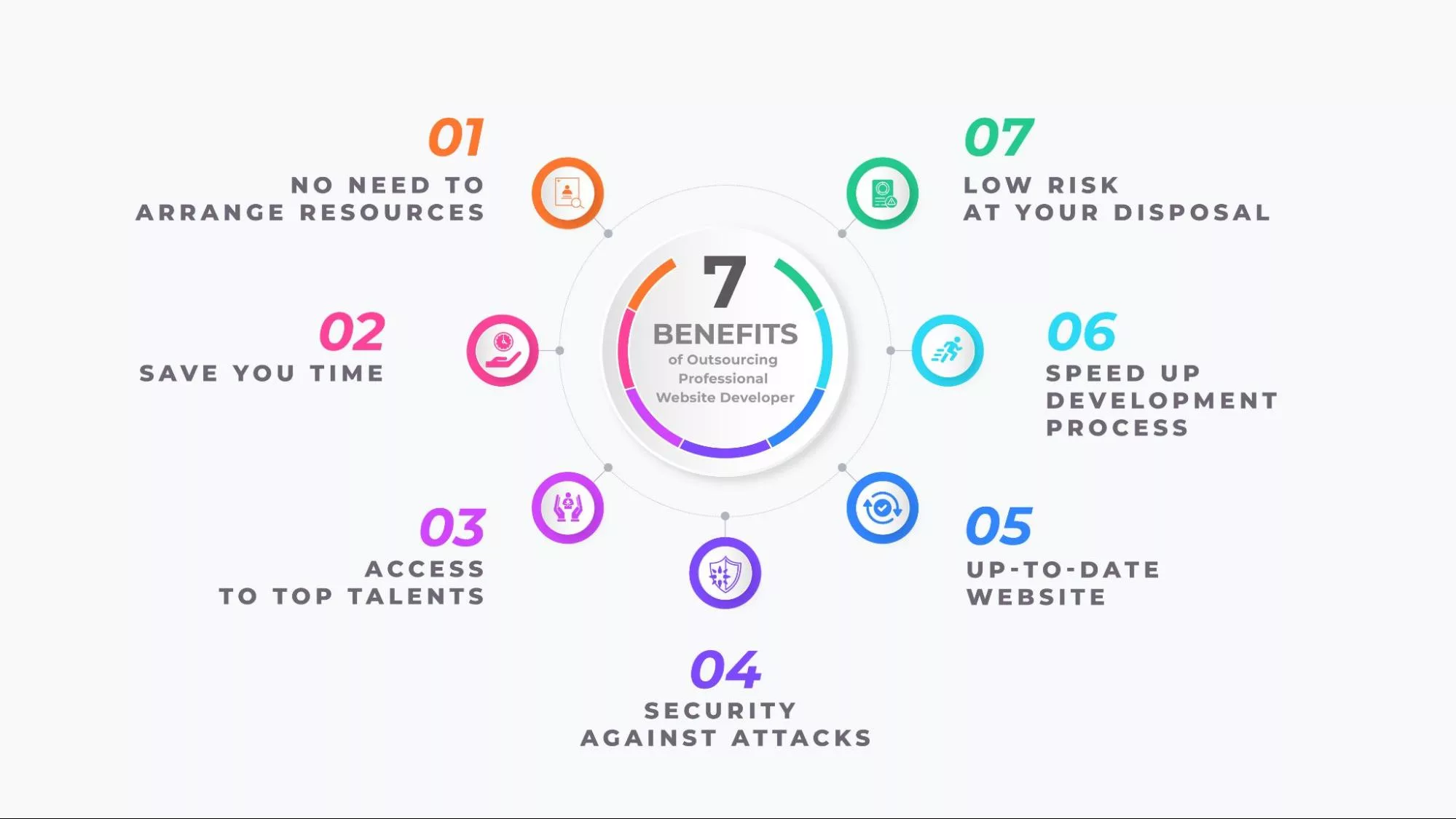 No Need to Arrange Resources
When you hire an employee to develop your website on-site, you need to arrange a lot of resources. These resources include equipment like laptops and tools like plugins and themes. Additionally, you'd have to have a big office to accommodate a large number of employees.
By outsourcing a website developer, you can cut the cost of these resources. All you'd have to pay the developer is per hour or project. Fortunately, you also have the option to work with a developer from any country of your choice.
Save You Time
Your business needs dedicated time to expand and grow steadily. The foundation of your business should be strong, coupled with strategic growth planning. Everything from accounts to new projects also requires your attention to finish well at the right time.
Giving additional time to website development can be challenging. However, you can save yourself time by hiring a website developer remotely and balancing the core objectives of your business.
Access to Top Talents
In most cases, outsourced website developers are the top industry talent. They are professionals with long years of experience in the IT industry. So, this helps you save time from skimming a bundle of resumes and directly connect to top-notch developers.
With a website developer building your site remotely, all you have to do is provide your requirements and expectations regarding the site. This gives you the freedom to customize your site to make an impression on your clients and enhance their experience.
Security Against Attacks
Any website or resource online is vulnerable to hacking. This hacking involves newly invented malware and viruses to hurt your brand's value or extract confidential information. To protect its brand image, a business would never want this information to leak, reach its competitors or spread widely.
As a professional website developer, the outsourced candidate protects your site against hacking and cyber-attacks. They back up your data on diversified locations to keep it secure. This way, you can rest assured with all information is well protected.
Up-to-Date Website
To stay up to mark and give your clients the smoothest user experience, you need a top-notch site with a responsive interface. So, while you might be able to develop a site all by yourself for your small business, it might not align with the recent updates.
A website developer is always equipped with recent updates and technology. They can keep your website up to date with the latest features and standards. Ultimately, your users will have a great site experience, and you can stay ahead of all competitors.
Speed Up Development Process
If you are thinking of developing your website by yourself, you need to reconsider your decision. Developing a website is time-consuming, and you might not have the skills required of a professional website developer. An expert developer is proficient at developing well-performing sites in a short time frame.
Hiring a website developer is directly proportional to speedy performance. By setting up a meeting with him, you can convey your business website's requirements and the deadline. They'll be sure to complete your project in time so you can launch the website shortly.
Low Risk at Your Disposal
Outsourcing is considered a risk due to a lack of control. While if you see it from the other side, it allows you to enjoy peace of mind when the project is under the supervision of professionals. A website developer is likely to be more concerned with its execution than you are.
These website developers or outsourcing companies have a high reputation in the market. This is why they would never want to damage it one way or another. Due to this, they will always work towards building a website with a high level of accuracy and a user-friendly interface.
Looking for a professional website developer to outsource your project?
VinnCorp has got your back.
We have a team of website developers who are:
Ready to work according to your work schedule (at your region's time)
Highly skilled with years of experience in development
Backed with a proven track record and experience
Equipped with the latest technologies and techniques
Proficient in driving efficient results
Additionally, we provide a range of tools and resources to our website developers, so you don't have to.
Get in touch with us today to hire a custom website developer and begin building your business website.
Conclusion
To thrive in the online world, a business must have an impressive and responsive website. You can sell your product and service easily through it and keep your customers engaged with new updates. A professional business website can also help your business build its reputation and attract a large number of interested customers.
Since there are multiple benefits to hiring an outsourced website developer, we recommend you outsource this project. By outsourcing a website developer, you are free from investing in additional resources and can get access to top talent easily. This can help you save time, protect your site against attacks, and build a website that your customers love.
In case you are searching for the top remote talent, VinnCorp is the right platform to trust. We have highly skilled website developers with years of experience who remain up-to-date with the latest technologies and have a proven track record.
Get in touch with us today, discuss your expectations, and have a professional website developer working at your regional time for your website.