The IT industry is the most effective vehicle for any company to achieve their goals and realize their potential. Unfortunately, it's a time consuming process and demands a lot of attention that most teams don't have much of.
This is why VinnCorp decided to focus all our energy into helping these companies and becoming the ones who take on these important tasks. We're a relatively new company and we need all the help we can get in terms of getting our name out there.Fortunately, our clients are the best and have responded to our needs in a way that matters most. They've been giving us feedback on the platform for B2B reviews called Clutch, and it's making a significant difference in our projected growth.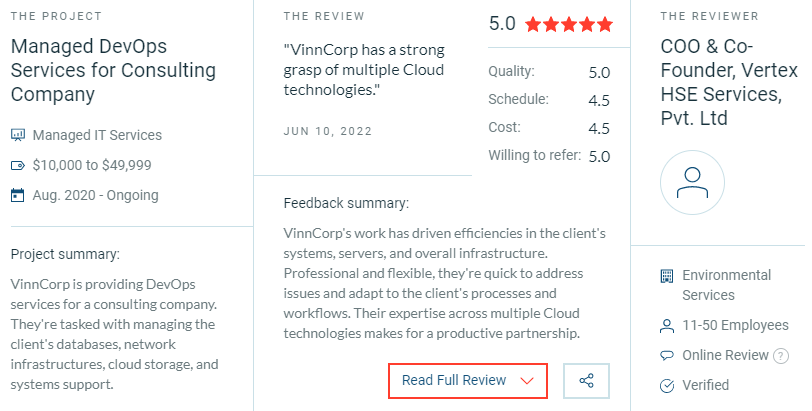 These reviews help us raise our status in the industry in a few ways. Clutch is a high-traffic platform that specifically targets businesses looking for service providers. Our presence on the site makes it easier to find our potential clients.
They also help us establish credibility for people outside the industry, because everything said about us comes from people who've already worked with our team. Their thoughts come from experience and carry a lot of weight for their fellow customers. If so many businesses are benefiting from working with us then our team must be the real deal.
This exposure means all the difference for teams like ours because when it comes to the actual performance of tasks, we're fully confident of getting the job done. All we really need is the opportunity to show more people what we're capable of on the international market.
VinnCorp is a Digital Transformation Firm known well in the IT Industry for providing premium quality services like Web Development, Enterprise systems, Social Media Marketing, UI/UX Designing, Mobile App Development, and System Integration with the assistance of highly qualified and experienced resources working dedicatedly to complete the projects with proficiency.
We're a team of professionals with over sixty satisfied customers who've been a part of this digital transformation firm since the company's initial days.
Learn more about these and other services by visiting our website. If you have any questions or inquiries regarding these processes or how we can begin helping you on your next project. Don't hesitate to contact us at your convenience. Our team is always ready to respond and help with any service you need.