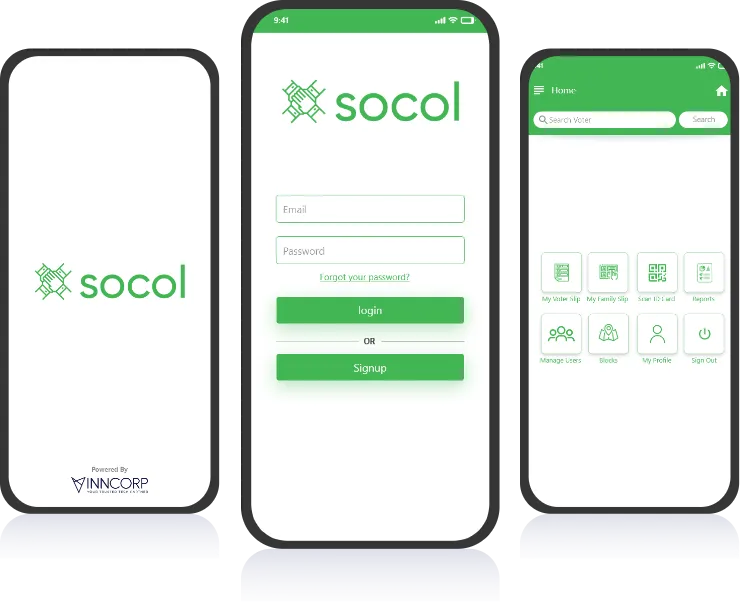 VinnCorp Digitized Voting System With 3.2 Million Users Registered
Socol is a voter relationship management system designed to run political campaigns. The name of the software was derived from "Social Collaboration," which combined became "Socol." The vision for the system was to promote democracy and enable the leadership at all levels to power their campaigns with the latest technologies. In the process, Socol cut campaign costs and increased campaign effectiveness.
VinnCorp built Socol, a civic tech technology, to provide a campaign management platform to political leadership and the public. Saving millions in campaign costs and enabling high-tech campaign management for leadership at all levels.
Building Socol required collecting detailed requirements from the political leadership, workers and domain experts. So, we met with several political leaders to get an idea of the features they want to integrate into the application and web app.
Not only this, but we also considered voters' persona and analyzed the issues that arise during physical voting.
After a thorough analysis and market research, we processed the information and started designing. Back in December 2017, the development team started working on this software.
6 Top Political Parties and 15 Candidates Used Socol in Elections of 2018 and beyond.
Fast forward to 8 months, VinnCorp developed Socol in July 2018. The application and web app were immersive and user-friendly.
When we presented this application to the current President and other leaders, they were amazed at the seamless interface built and thrilled to use it in elections ahead. The platform was created from scratch for all political parties to use and to promote democracy.
The technology team solved a critical problem of ingesting voters' data in the system by automating the process. The efficiency of digitization was increased 10x by our automation, and the previously tedious task of running campaigns digitally became possible.
The application's features included generating polling slips, running SMS campaigns, QR code-driven identity card search, campaign team management, complaint management, and map integration.
6 political parties, 15 candidates, and 3.2 Million voters used Socol on election day. Over 1 Million voters were found when searched through the QR code search feature.
While 1.5 Million voters were sent personalized messages from political leadership to their homes via mailers, this reflected the huge success of Socol as a platform.